Hippo

'
Profile
Name: Hippo (ヒッポ Hippo)
Age: 13-15 (Human Form)
8-11 (Penguin)
Species/Race: Penguin
Physical Appearance
Gender: Male
Hair Color: Blue (Penguin form)
Yellow (Human and Hippocampus form)
Eye Color: Black (Penguin form)
Light Green (Human and Hippocampus form)
Personal Information
Talent: Protecting the Mermaid Princesses
Favorite Color: Light Blue
Favorite Type of Girls: Low Maintenance Girls
Relationships
Friends: The Mermaid Princesses, Nikora, Taki-san
Love Interest:
Yuri
Production Information
Voice Actor: Mayako Ito
Position in the Series: Supporting Character
Hippo (ヒッポ Hippo) is one of the supporting characters in Mermaid Melody.
History
Lucia's guardian who serves as her guide. Hippo accompanies Lucia in her search for her pink pearl, and is among those who voice disapproval of her relationship with Kaito. He is also polite, always putting -san, (-さん) after every name, even when angry. In the anime, he is shown as Lucia's pet penguin. Later on, he is able to transform into a very cute human boy, as well as a creature called a Hippocampus. In his human form, Hippo falls in love with a Dark Lover, Yuri. Hippo transforms into a Hippocampus using a key he got while trying to save Taro from Sara. His real form as "Hippocampus" resembles a unicorn.
Appearance
Hippo has somewhat large black eyes and wears a navy crew uniform and a matching hat with a red ribbon tied around, when in his most common form.
Forms and Aspects
Hippo has three forms. His Penguin form, his Hippocampus form, and his "cute" human form.
Hippocampus Form
Hippo isn't seen in his hippocampus form until around the end of Mermaid Melody Pichi Pichi Pitch because he can only transform into it when he has the key to the Panthalassa palace. Sara stole the key so that she can free Gaito from imprisonment in the castle.
Penguin Form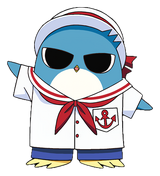 In his penguin form, his color is blue with large black eyes, and wears a white crew uniform with an anchor put on a pocket in his right side and a matching hat with a red ribbon tied around his hat.
Human Form
In his human form he has blonde hair and and yellow green eyes.he wears the same clothing as he wears in his penguin form.He is mostly seen with Yuri in his human form.The mermaid princesses eventually found out that he is deeply in love with Yuri, one of the Dark Lovers.
Gallery